MS Excel (Advanced) Course Training in Dubai

Download Brochure
Download Sample Class
Book Free Demo Class
Microsoft Excel is a spreadsheet program used to store and retrieve numerical data in a grid format of columns and rows. Excel is ideal for entering, calculating, and analyzing company data such as sales figures, sales taxes, or commissions.  Advanced Microsoft Excel training is for those people who know basics of Excel already and is designed for students to gain advanced skills necessary to use pivot tables, audit and analyze worksheet data, utilize data tools, collaborate with others, and create and manage macros (Optional). … etc. We are providing this advanced Excel course in Bur Dubai. We are located very near to the metro station and our academy is very to the metro station [Sharaf DG Exit 1 – Also known as Al Fahidi Metro Station]. If you are looking for excel training course near Bur Dubai, then Rolla Academy is the best option for you.
Benefits of Microsoft Advanced Excel Course Training in Dubai, UAE
Excel is a very important software for daily use in almost all offices. Knowing the advanced level of this Microsoft spreadsheet program gives you an advantage against your competitors as it reduces efforts and saves a lot of your time.
| | |
| --- | --- |
| ✅ Excel Training Level | Advanced |
| 🤖 Software | Microsoft Excel |
| 🟢 Trainer Experience | 10+ Years |
| 💲 Price | Reasonable |
Below are the top 6 benefits of doing the Advance Excel Course in UAE:
1. Advanced Excel Training Dubai for Finance Professional is Highly Beneficial
The advanced Excel course focuses on highly sought-after abilities that are used and appreciated by a wide variety of businesses. In order to build equations and supply additional data on crucial company tasks like project efficiency and financial projections, you should consider enrolling in an Excel training course. Create tracking systems for various departments and processes, and develop spreadsheets that give a clear picture of the data entered. You'll have more resources at your disposal and be able to get more done with these abilities.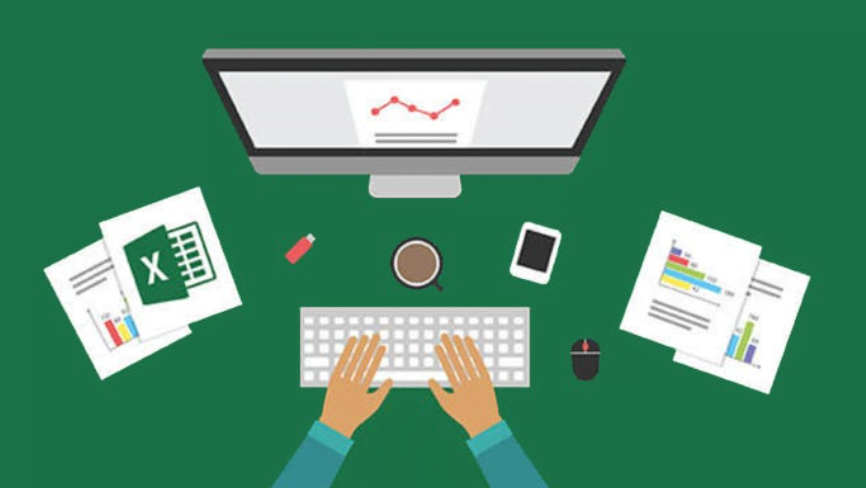 2. Potential Gains in Employment
When looking for a new employee, employers prioritize candidates with specialized skill sets. Excel skills are highly sought after by employers because of the widespread reliance on electronic means of communication, record keeping, project management, and employee monitoring.
3. Excel Data Analysis Course Increases Productivity and Efficiency
Excel facilitates employees' ability to cope with and perform calculations, which in turn boosts output. With an advanced understanding of Excel, you'll have access to more powerful features, which will allow you to work more efficiently through both routine and complex jobs and data analyses. You'll also keep everyone on the team informed, which will help the workflow immensely.
4. Excel Learning is Exceptionally Cost-Effective
Possessing expert-level Excel abilities makes you a valuable employee due to your advanced productivity, which in turn increases your chances of being retained in your current position and opens doors to higher-ranking positions elsewhere. Improving your productivity and competency at work will help you advance in your career. This can be done by taking an advanced Excel course, which will both equip you and shield you from being replaced by workers with more advanced skill sets.
5. Increased Efficiency in Data Storage and Data Analytics
A spreadsheet excels as a data-gathering and analysis tool. Excel is a spreadsheet program that helps you organize and sort data so that it can be readily studied and converted to graphical representations.
6. VBA Course Simplifies Tasks
Gaining proficiency in Excel VBA allows you to take advantage of its many time-saving shortcuts. Studies have shown that workers who are satisfied with their working conditions are 20% more productive than those who are not.
If you are a beginner we would recommend you to join the Basic MS office Course in Dubai first and then go ahead for advance level course.
Let's have a high level view on the basic intermediate and advanced excel training we provide:
Basic MS Excel Training Course Covers the Following:
In our basic MS Excel training, you will learn the fundamentals of spreadsheet concepts, navigation, workbooks, creating rows, columns, cells, and much more.
Our expert instructors will guide you through various techniques, including using auto lists, entering data, inserting, deleting, copying, hiding rows, and other navigation techniques.
You will also learn how to customize Excel to your needs, like customizing the ribbon, quick access toolbar, autocorrect, creating Autofill lists, creating custom number formats, and more.
Intermediate MS Excel Training Course Covers the Following:
In the intermediate MS Excel training, we dive deeper into the Excel world, covering mathematical functions such as SumProduct, Subtotal, CountIf, CountIfs, AverageIf, AverageIfs, and much more.
You will also learn lookup functions such as Vlookup / HLookup and how to create a smooth user interface using Lookup, Offset, Index, and other techniques.
Besides these, you will also learn logical functions like substitute explanations to composite IF conditions to make your office work easy.
You will also understand text functions, bounding functions, error handling functions, printing workbooks, and more.
Advanced MS Excel Training Course Covers the Following:
Our advanced MS Excel training is designed to provide you with the knowledge and skills required to handle complex Excel functions with ease.
In this module, we will teach you how to import & export information from the webpage, use text to columns, build dynamic dashboards, reports, and much more.
You will also understand what is data validation, how to protect Excel by setting permissions for specific tasks, sheet & cell-level protection, and more.
Besides these, we will also guide you on additional things such as consolidation, pivot tables, conditional formatting, Excel dashboards, and much more.
Our MS Excel training in Dubai is conducted by industry experts who have years of experience in the field. By enrolling in our program, you will gain hands-on experience and learn Excel techniques that will help you excel in your professional life. Join our program today and take the first step towards becoming an Excel master.
Who is eligible for Advanced Excel Training in Dubai?
Advanced Excel training in Dubai is typically designed for professionals who already have some knowledge of basic Excel functions and want to enhance their skills and knowledge to perform complex tasks. If you are new to MS Excel then do our MS Excel Basic Course first. You can also combine both courses and join our MS Excel Basic to Advanced level course.
Here are some examples of people who may be eligible for advanced Excel training in Dubai:
Beginners who already have idea of Basic Excel.
Business professionals who need to analyze large datasets and create complex reports for decision-making.
Financial professionals who need to create financial models and perform financial analysis.
Data analysts who need to manage and analyze large datasets.
Project managers who need to track project progress and create project plans using Excel.
Sales and marketing professionals who need to analyze customer data and create sales reports.
Engineers who need to perform data analysis and modeling for technical applications.
Students who want to improve their Excel skills to enhance their career prospects.
The Below Table Explains Who Should Do Which Level Of Excel Training:
| Training Course | Target Audience |
| --- | --- |
| Basic Excel Training | – Individuals with little to no Excel experience |
| | – Beginners who want to learn foundational Excel skills |
| | – Students, entry-level professionals, administrative staff |
| | – Individuals who need to work with spreadsheets regularly |
| Intermediate Excel Training | – Users with basic Excel knowledge and skills |
| | – Individuals who want to expand their Excel proficiency |
| | – Analysts, managers, accountants, project coordinators |
| | – Professionals who need to analyze and present data |
| Advanced Excel Training | – Users with solid Excel skills and understanding |
| | – Individuals who want to become power users in Excel |
| | – Data analysts, financial analysts, business intelligence |
| | professionals |
In general, anyone who has a basic knowledge of Excel and needs to use it frequently for work or personal purposes can benefit from advanced Excel training.
FAQs – Excel Training Course in Dubai
1. Is the Excel training course suitable for beginners?
Yes, the Excel training course offered by Rolla Academy Dubai is designed to cater to individuals with various skill levels. Whether you are a beginner with no prior experience or someone looking to enhance your existing Excel skills, there are courses available to suit your needs.
2. What topics are covered in the Excel training course?
The Excel training course covers a wide range of topics, including navigating the Excel interface, data entry and formatting, formula and function creation, data analysis and visualization, pivot tables, advanced functions, automation using macros, and more. The course curriculum is comprehensive and designed to provide you with a solid foundation and advanced skills in Excel.
3. Are the Excel training courses hands-on?
Yes, Rolla Academy Dubai believes in providing practical, hands-on training experiences. The Excel training courses include interactive exercises, real-world examples, and practical assignments to ensure that you can apply what you learn in a simulated business environment.
4. Are the Excel trainers experienced?
Yes, Rolla Academy Dubai takes pride in its team of experienced trainers who have extensive knowledge of Excel and practical industry experience. They are skilled in delivering effective training sessions, addressing individual learning needs, and providing valuable insights and guidance.
5. Can I receive a certification after completing the Excel training course?
Yes, upon successful completion of the Excel training course, Rolla Academy Dubai provides participants with a certification of completion and KHDA certificate, recognised by Dubai government. This certification acknowledges your proficiency and demonstrates your commitment to Excel skills development.
6. Are there any prerequisites for enrolling in the Excel training course?
There are no specific prerequisites for enrolling in the Excel training course. The courses are designed to accommodate learners with varying levels of experience, from beginners to intermediate and advanced users. Basic computer literacy and familiarity with Microsoft Office applications are beneficial but not mandatory.
7. Can the Excel training courses be customized for corporate training needs?
Yes, Rolla Academy Dubai offers customized Excel training programs for corporate clients. These programs can be tailored to address specific organizational requirements and can be conducted on-site or at the academy. Customized training ensures that your team receives targeted instruction relevant to their job roles and industry.
8. Is the Excel training course available online?
Yes, Rolla Academy Dubai provides online Excel training courses, allowing you the flexibility to learn from anywhere at your own pace. The online courses offer interactive learning materials, virtual classrooms, and support from trainers to ensure a seamless learning experience.
9. How do I enroll in the Excel training course?
To enroll in the Excel training course, you can visit the Rolla Academy Dubai website or contact their admissions team directly on +971 50 780 1081. They will provide you with all the necessary information regarding course schedules, fees, and enrollment procedures.
10. Can I get post-training support or assistance?
Yes, Rolla Academy Dubai offers post-training support to course participants. If you have any questions or require further assistance after completing the training course, you can reach out to the academy's support team for guidance and clarification.
More Courses You Might Like
If you're looking to enhance your skills in data analysis, our Power BI Course in Dubai provides comprehensive training in data visualization, data modeling, and report design. Through this course, we will introduce you to Power BI's powerful tools that can transform your raw data into compelling visual narratives, helping you make data-driven decisions with
Microsoft Outlook is a personal information manager from Microsoft, available as a part of the Microsoft Office suite. Although often used mainly as an email application, it also includes a calendar, task manager, contact manager, note-taking, journal, and web browsing. The Course "Microsoft Outlook" is intended for people who want to learn the technical tools/features, use of MS
Microsoft Excel is a spreadsheet program used to store and retrieve numerical data in a grid format of columns and rows. Excel is ideal for entering, calculating, and analyzing company data such as sales figures, sales taxes, or commissions.  Advanced Microsoft Excel training is for those people who know basics of Excel already and is designed for